จำนวนครั้งที่เปิดดูสินค้า : 525 | ความคิดเห็น: 0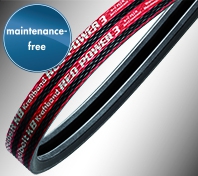 เพิ่มเมื่อ:
12/09/2016

แก้ไขล่าสุด:
16/09/2016

เบอร์โทรติดต่อ:
เบอร์โทร : 02-171-5090 แฟกซ์ : 02-171-5089

อีเมลล์:
aecfilterparts@gmail.com
รายละเอียด:
High performance kraftbands - wrapped
Profile

3V/9J, 5V/15J, 8V/25J, SPB, SPC

Dimensions

1,270 to 12,000 mm
Detail

ptibelt KB RED POWER 3 kraftbands are made up of wrapped optibelt RED POWER 3 V-belts which are joined by highly wear-resistant top cover. This compact drive product is preferably used when dealing with extreme shock loads, large centre distances and vertical shafts.

The cover fabric which is wear- and tear-resistant, the high-quality rubber compound and the special low-stretch polyester cord guarantee a high level of dynamic load and maintenance-free drives. Combinations of sets are required in the event of multiple kraftbands being used per drive.

Advantages

up to 50% higher power ratings
maintenance-free
up to 97% efficiency
antistatic according to ISO 1813, compatible with ATEX
suitable for back bend idlers
extended service life and machine running times
temperature range –30 ° to +100 °C